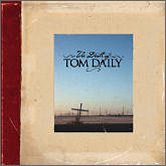 Artist: Tom Daily
Album: The Death of Tom Daily
Release Date: 2006
Track Listing:
1. Suckers From The Start
2. Always Painting Birds
3. Misery
4. Goodbye Chicago Hello
5. This Match, This Map
6. Feel Free
7. Are We Leaving?
8. Hello Chicago Goodbye
9. Lunar Eclipse
10. Thax Douglas
11. The Way That I See It
12. There Is Still Hope
Ad blocker interference detected!
Wikia is a free-to-use site that makes money from advertising. We have a modified experience for viewers using ad blockers

Wikia is not accessible if you've made further modifications. Remove the custom ad blocker rule(s) and the page will load as expected.